Evelyne's Biography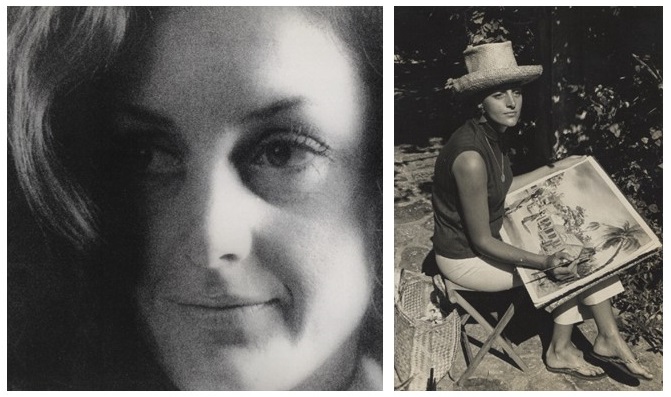 Evelyne Boren (a native of Munich, Germany) enjoys worldwide recognition for her impressionistic art interpretations of life, people and scenes of the Southwest, Mexico and Europe in watercolor and oil paintings. Evelyne's life reads like an adventure story—from the time she attended school in Switzerland and England, to her move to the United States in 1958 and her stunt work in movies.
Before beginning her full-time professional career as an artist, Evelyne had an aquatic career that included underwater stunt doubling in the James Bond films "Thunderball" and "You Only Live Twice".
She was the first woman in the world to swim with a killer whale in the movie "Namu the Killer Whale". She appeared on the television programs "What's My Line" and "To Tell The Truth", where no one guessed her profession. She also appeared frequently in the television series "Sea Hunt", "Aquanauts" and "Flipper" where she helped train the star dolphin.
From these adventures she turned to painting in 1962, while on location filming in the Bahamas. The breathtaking color and beauty of the islands stirred a deep desire within Evelyne to express her feelings on canvas, so she began to paint. Her enthu-siasm, drive and discipline have resulted in a very successful art career. Evelyne has studied with several important artists, but has developed a style that is strictly her own.
In 1990, in Roussillon, France she entered a competition for paintings that used only burnt sienna, raw sienna and yellow ochre pigments that are mined locally. The only foreigner, she won first prize over forty other French artists. In 1997, Evelyne had the honor of having one of her paintings selected for the official Santa Fe Opera Poster. She has more then 4,000 original paintings in private and corporate collections around the world.
Evelyne maintains a permanent studio in Santa Fe, New México and in San Pancho, México.
Education:
Studied in Munich Germany to 1955.
1956 French Diploma, Ecole Ruegg, Lausanne, Switzerland.
1957 Cambridge English Language Diploma, England.
1963 to 1970 Studied Watercolor with Robert E. Wood and Tom Hill.
My Books :
"Joie de Vivre". 1996. Suzanne Deats. International Graphics. 120 pages (color)
Landscapes of New Mexico
« Evelyne Boren, a Retrospective ». 2018. Suzanne Deats. 200 pages (color)
Television:
PBS one hour feature story " Landscapes of Enchantment"
2010 10 top Artists of New Mexico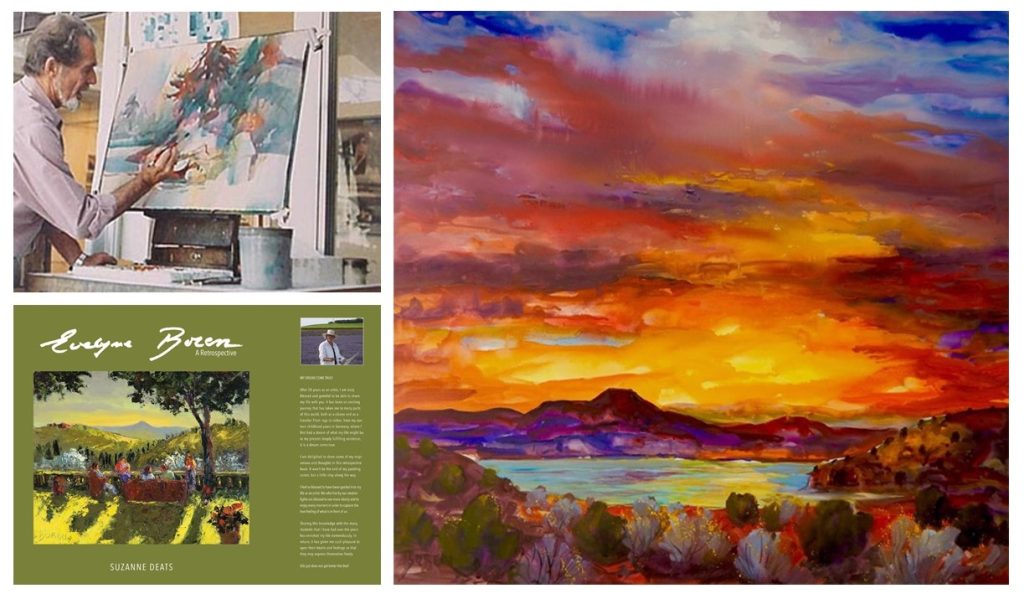 Museum Exhibitions:
1998 Ellen Noel Art Museum. Odessa, TX. Solo Show
1998 • 1999 • 2000 Artists Of America Rotary Show. Colorado History Museum
1981 California Museum of Science and Industry. Los Angeles Solo Exhibition
Gallery Solo Shows:
1977 Cushing Gallery, Dallas, TX
1977 Odessy Gallery, San Antonio, TX
1978 Livingston Gallery, San Francisco, CA
1979 Galeria Uno, Puerto Vallarta, México
1982 Munson Gallery, Santa Fe, NM
1988 Riggs Gallery, La Jolla, CA
1988 Jeannette MC Intyre Gallery, Palm Springs, CA
1989 El Taller Gallery. Santa Fe, NM
1993 Brooks De Goyer Gallery, Puerto Vallarta, México
1992 – 2004 Cline Fine Art Gallery. Santa Fe, NM
1997 – 2000 Galeria Pacifico, Puerto Vallarta, México
2001 Third Canyon Gallery, Denver, CO
2001 – 2010 Galerie Des Artistes, Puerto Vallarta, México
2001 Center of Contemporary Arts, Abilene, TX
2002 Texas Art Gallery, Dallas, TX
2005 – 2007 Nedra Matteucci Fine Art Gallery, Santa Fe, NM
2005 Cline Fine Art Gallery, Scottsdale, AZ
2006 Four Seasons Hotel, Puerto Vallarta, México
2008 Nedra Matteucci Fine Art, Santa Fe NM
2009 Nedra Matteucci Fine Art, Santa Fe Nm
2009 Abend Gallery, Denver Co
2011 Galerie Des Artistes, Puerto Vallarta
2010 Nedra Matteucci Fine Art, Saanta Fe NM
2011 Galerie Des Artistes, Puerto Vallarta
2011 Nedra Matteucci Galleries, Santa Fe NM
2013 Nedra Matteucci Galleries, santa Fe NM
2013 Heinley Fine Art, Taos NM
2014 Acosta Strong ,Oklahoma City OK
2014 Heinley Fine Art, Taos NMArt Taos NM
2014 Acosta Strong Fine Art, Santa Fe NM
2015 Galerie Des Artistes, Puerto Vallarta MX
2015 Acosta Strong Fine Art, Santa Fe NM
2016 Galerie Des Artistes, Puerto Vallarta MX
2016 Acosta Strong Fine Art, Santa Fe NM<
2017 Galerie Des Artistes, Puerto Vallarta MX
2017 Acosta Strong Fine Art, Santa Fe NM
2018 Galerie Des Artistes, Puerto Vallarta MX
2018 Acosta Strong Fine Art, Santa Fe NM
2019 Galerie Des Artistes, Puerto Vallarta MX
2019 Acosta Strong Fine Art, Santa Fe NM
2020 Galerie Des Artistes, Puerto Vallarta MX
2020 Acosta Strong Fine Art, Santa Fe NM
2021 Acosta Strong Fine Art, Santa Fe NM
Memberships:
Charter Member of San Diego Watercolor Society
Member of Alla Prima International Society
Magazine and Newspaper Articles:
1990 "The Colors of Her World" August Article by Suzanne Deats, "Focus" Magazine
1992 "Evelyne Boren, Artist" September Cover Story by Daniel Gibson, "Santa Fean" Magazine
1996 "France Feels Like Oils" October Article by Gussie Fauntlerory. "Santa Fean" Magazine
1997 "An Artist's Palette in Stone" November Story by Manya Winsted, "Santa Fean" Magazine
2000 "The Sky Is The Limit" September Issue. "The Artist" Magazine
2001 "Master Painters of the world " July Issue. "International Artists" Magazine
2003 "The Sky as Abstraction" February Article by Jenny Sullivan. "The Artis"ts Magazine"
2003 "Making Dreams A Realety" July Issue. "Southwest Art" Magazine
2004 "Following The Sun" August Story by Charlotte Berney. "Focus" Magazine
2004 "Wild Life Art: Evelyne Boren" September Cover Story. "Wild Life" Magazine
2006 "Go With The Flow" December Story by Michelle Taute. "Watercolor Magic" Magazine
2007 "Visualizing Paradise" Summer Edition Story by Lesley King. "La Vie Claire" Magazine
2011 "Western Art Collector" October Edition "Light Of The Sun"
2021 "Artist Evelyne Boren, Always Learning, Always Evolving" September Cover Story by Emily Van Cleve