My new limited edition book comes with an original painting and is now available. Click here to view and purchase.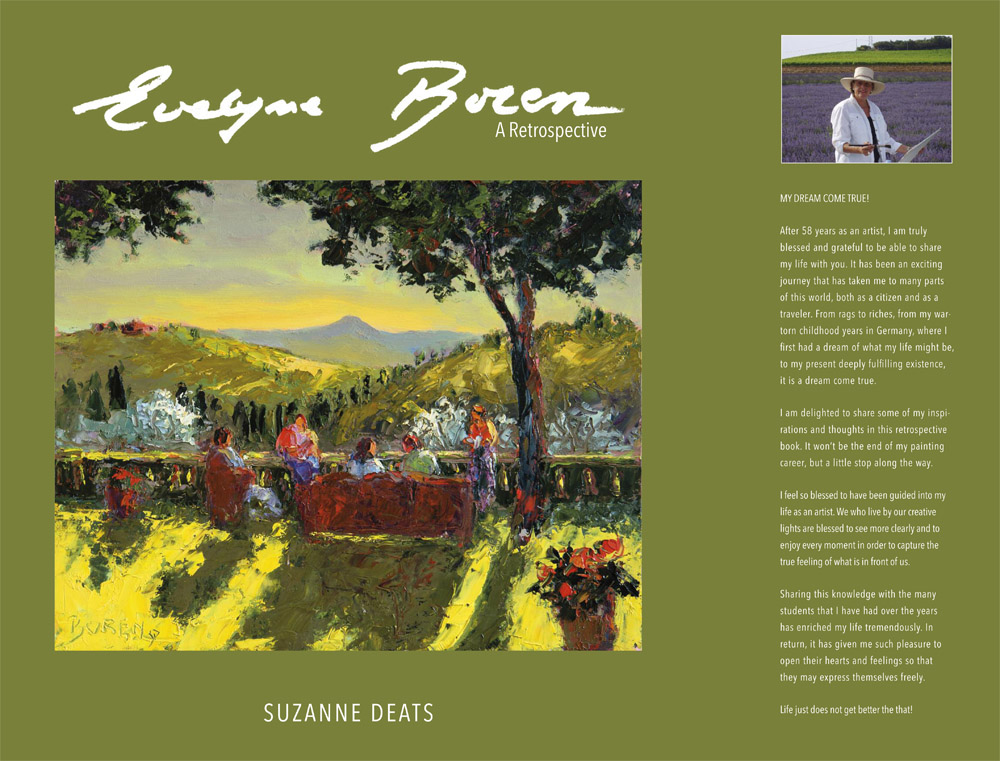 WELCOME TO THE WORLD AS SEEN THROUGH MY EYES
After over 40 years of painting in watercolors and oils, I am experiencing a newly found sense of excitement of using palette knives instead of brushes and the impact it is having on both mediums.
My favorite way to start a painting is to go out on location and do a small watercolor painting that captures the scene, color and mood at a particular time of day.
Back in my studio I make a few charcoal sketches of the same subject improving and simplifying the design. As I like to work with a limited palette, I will choose my color combination and make a few small color sketches to see if my choice of color can express what I feel about the subject. Then with very little drawing, I lay in pure colors on watercolor paper or canvas—exciting clean color washes saving some white areas.
In watercolor I work from light to dark, letting each passage dry before adding more color. With each color wash I will gray some of the painting leaving the purest color (or white paper) where I want the eye to go always thinking light against dark, dark against light, warm against cool, and cool against warm. It is this exciting process of pushing, pulling, negative painting and scraping into the fresh moist pigment to let some of the under-painting come through that enhances my center of interest. The secret is to know when to stop! Put the watercolor in a mat and stand back. If needed, add a few final touches, but then leave it alone.
After working in oils the conventional way (from dark to light) I have recently enjoyed a new direction with a more direct approach of using palette knives for most of the painting. As in painting with watercolors,
I work through sketches and color studies so that when I start putting pigment on canvas I know where I want the painting to go. I mix my limited palette and work wet into wet moving the paint with my knives. I work from thin layers of paint to thicker more textured layers. My own feelings and excitement for the subject come through in a fresh and pleasing way. I listen to my inner feelings and go with the flow as I do in painting my watercolors. I want to be sure not to over work
the painting.
Working in both mediums is a challenge. It keeps me from getting bored. Over the years my watercolor paintings have become stronger, and my oil paintings have become looser—an exhilarating feeling!
GALLERY REPRESENTATION 
Acosta Strong Fine Art
Galerie Des Artistes